CNC Capabilities - Milling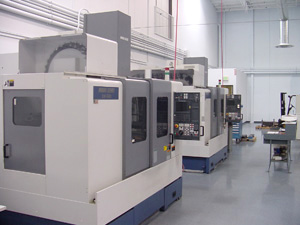 With our new Okuma 5 Axis milling machine and our three Mori Seiki Machining Centers, precision machined parts can be machined to tolerances of +/-.0001" on our calibrated, extremely precise machines. Our newest Okuma is equipped with a 48 station tool changer and performs fully integrated five axis machining simultaneously. All of our machines are capable of machining very tough materials very efficiently. Complicated four and five axis machining is accomplished by our skilled cadre of personnel. All of our equipment is operated in a temperature controlled environment to assure higher precision. Our new Okuma are in addition to three Mori Seiki's and three Kiras that we continue to operate bringing our total capacity to seven VMC's.
At AMT, we marry the cost effective traditional CNC machining & waterjet operations with the EDM process approach to save time or material. This allows critical final part shapes to be fabricated by EDM or waterjet after heat treatment and results in a superior product with less internal stress.
Current capabilities:
Maximum Cutting Area: 40" x 20" x 20" tall
Maximum Weight: 3500 lbs.
5-Axis Simultaneous Machining
4-Axis Simultaneous Machining
4-Axis Indexed machining
Complex shapes and configurations are created on our Mastercam system and CNC machined efficiently. We can accept .igs, .stp, parasolid and Solidwork files for direct input into our system.
At AMT, our focus is high quality parts that exceed your expectations. We are service oriented and will work with you to find the most cost effective approach to manufacturing your parts.