CNC Capabilities - Turning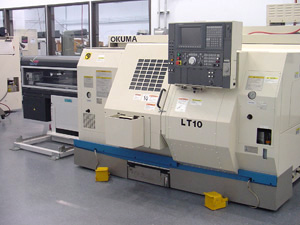 Our newest CNC Lathes are both Okumas. The Captain L470 1250C adds a new dimension in cutting size for us at ATM. Utilizing our 15" chuck or on a face plate, we can turn a 26" diameter titanium part. The 30 HP motor and extended travel, can support a 50" long part. Our Okuma LT10 features state- of-the-art dual spindles, dual turret design and incorporates a magazine bar feed. This machine allows a complete part piece to be manufactured in one cycle. This eliminates handling and saves the handling and reloading time - saving you money!
Additional capacity is provided by our other three Okuma CNC Lathes and our Miyano twin spindle lathe, utilizing live tooling. Very tight tolerance parts are manufactured in production quantities. We regularly turn Inconel, titanium, stainless steel and exotic materials on these precision machines.
Maximum diameter: 34"
Maximum length: 50"