Company Background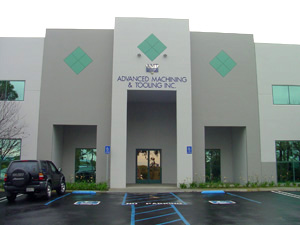 Advanced Machining & Tooling, LLC (AMT), a California corporation, commenced doing business in 1989. We started our business in a small 168 sq. ft room and over the decades we've expanded into a 31,500 sq. ft. facility of fully climate-controlled space. We are located in the city of Poway, neighbor to San Diego in the inland valley, five miles east of the I-15 freeway. Our employment has increased to over 45 full and part time Toolmakers, Machinists, EDM Specialists and administrative personnel.
It is our experience that, AMT produced precision parts allow a competitive advantage to our customers due to the increased machined precision, many parts are interchangeable and improved inherent quality and accuracy of CNC & EDM produced components. Being ISO 9001 & AS 9100 approved assures you the highest quality and consistent work. We are committed to our customers to help define and resolve technical & manufacturing issues with cost-effective solutions.
Mission
It is the mission of Advanced Machining & Tooling, LLC (AMT) to provide exceptional service and quality Precision EDM, Waterjet & CNC manufactured parts, products and assemblies that consistently meet or exceed our customers ' expectations through continuous improvements.
Product/Services Capabilities
AMT's focus is the manufacture of high precision, complex parts. Our competitive advantage is the utilization of Electrical Discharge Machining (EDM) and Waterjet equipment coupled with state of the art CNC machining and turning equipment to produce the majority of our precision components. Our Waterjet provides precision components at lower cost than standard techniques. The EDM process results in repeatable components at extreme high precision. Our combination of technologies allows a unique, innovative or automated approach to be utilized for the machining of complex shapes or difficult materials. Superior results are consistently obtained and the interchangeability of components is achieved.
Quality/Business Systems
AMT has achieved approved supplied status by maintaining an efficient quality control and business system that is certified to ISO 9001 and AS 9100. Our calibration system far exceeds the obsolete Mil-STD 45208A. All of our final inspection instruments are traceable to NIST. Our processes and manufacturing are accomplished in strict accord to our ISO/AS documented systems. The business systems are continuously improved, being upgraded and consistently improved. We are training our talented associates on a regular basis to maintain the state of the art in manufacturing techniques and systems.